Last week, I looked at all the unfinished series I want to finish in 2015. This week, I look at all the series I haven't started yet, but totally own – as always, I blame Amazon and all you lovely book reviewers for tempting my purse. I will spare you the extent of my shiny collection (ok, 29), because it is vast enough to give me nightmares. Instead, let me tell you about the eight series that I wish to start this year.

1) Partials by Dan Wells
Young Adult, dystopia, has science in it from what I hear. Sounds like a book for me. The dystopia label plus that gorgeous cover were all it needed for me to click buy. The library has the sequel to this so if I like book #1 I can just borrow it there, yay. The good thing is, I have waited so long to read this series that all the books are already out.
2) Throne of Glass by Sarah J. Maas
Female Royal Assassin. Do I need to say more? I saw Sarah J. Maas on the Frankfurt Book Fair in 2013, where she talked about her book and let's just say, I liked what I heard. Nevertheless, I only bought this book recently when it was cheap on Amazon, because people don't stop raving about it. I'm scared that the hype is making it out to be more than it is but I will take my chances.
3) The Magicians by Lev Grossman
I first heard about this book when a friend (hi, Felix!) recommended it to me as a Harry Potter for adults. That's all it took. What also helped is that other people have given this book positive reviews. But the die was cast when Harry Potter.
4) Confessions of a Shopaholic by Sophie Kinsella
This series has been around for a while, but I only started to get into chick lit recently. From what I gather, this is chick lit canon, and also, I read the first few pages and loved it, so I bought it. I watched the movie some years ago, but I think the book will be a rather different experience, especially now that I'm a bit older.
5) Seraphina by Rachel Hartman
I bought this when it first came out because THAT COVER and THAT SYNOPSIS! I'm so sad they changed the cover design for the second book. The first version is gorgeous. This has always been the joker up my sleeve that I never used. But now, more people are reading the book and I don't want to get spoiled so I should read it as soon as possible.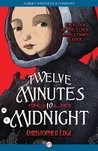 6) Twelve Minutes to Midnight by Christopher Edge
This was one of those ominous it's-cheap-on-Amazon-and-I-like-the-cover buys. And then I forgot about it for a while. But recently I have been getting more into children's literature and this seems like the perfect read for my cravings. Apart from this, Goodreads claims that readers who enjoyed this book also enjoyed my new favourite children's book series: Wings & Co by Sarah Gardner (the second book, man. Loved it!).
7) The Darkest Minds by Alexandra Bracken
I'm not sure if I will like this series. From what I hear this could be something I dnf if it's not working for me. On the other hand, the hype says this is something most YA-fans will enjoy. We'll see how I do. When I notice the only thing that is hindering my enjoyment is that I'm oversaturated with YA I will put it aside for a while, otherwise bye bye. I would not have bought this if it hadn't been an iBooks deal (story of my life).
8) The Girl Who Circumnavigated Fairyland in a Ship of Her Own Making by Catheryinne M. Valente
You probably have heard of this book before. I had, too, so I bought it (you know the drill) when it was cheap on Amazon. This is on this list because of my recent children's literature cravings. There is a good chance I will read this and Twelve Minutes to Midnight soon, unless I find something in the library that postpones it.
If you want to know which other series I have yet to begin, you can just go to my Goodreads page to my owned-tbr shelf, where all my shame is displayed for the world to see.